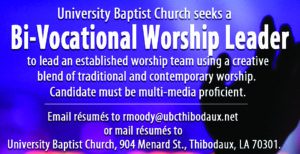 Welcome to University Baptist Church on the web. We hope that you will find this experience pleasant as well as spiritually uplifting. UBC is a family of believers who come together for the sole purpose of lifting up the name of Jesus.
Our intention in everything we do is to magnify Christ. If you do not know the Lord as your personal Savior, our desire is for you to surrender your life to Him. May God richly bless you as we worship together!
Boy, what a week! The past nine days have been a complete whirlwind. From moving to a new city, unpacking my new office, starting a new homeschool endeavor with our kids, making hospital and home visits, and everything else in between, it seems that we still haven't adjusted to the new normal. Since the days are so hectic, we are just in survival mode right now. As a result, most of my …
Read more...
---